Kerry Music Education Partnership announces plans to secure Music Generation funding from U2 and The Ireland Funds to develop music education initiatives for young people in Co Kerry
Kerry Education and Training Board in partnership with Kerry County Council, the Institute of Technology, Tralee, Kerry Diocesan Youth Service, Ealain na Gaeltachta and local music educators and schools have announced their intention to apply to Music Generation for up to €600,000 in seed funding to develop new music education initiatives for children and young people across Co. Kerry.
Music Generation is Ireland's National Music Education Programme that transforms the lives of children and young people through access to high quality performance music education in their locality. Tuition programmes which encompass all musical genres and all types of instruments and vocal styles, are delivered locally by skilled professional musicians. Initiated by Music Network, Music Generation is co-funded by U2, The Ireland Funds, the Department of Education and Skills and local Music Education Partnerships. Music Generation is already in operation in Louth, Mayo, Sligo, Cork City, Laois, Wicklow, Carlow, Limerick City, Offaly, Westmeath, Clare, South Dublin and Donegal. During its current development phase, Music Generation hopes to include up to 9 additional regions in its programme over the period 2017-2021.
For the past number of years, Kerry Music Education Partnership, led by Kerry Education and Training Board, has been working with local providers to pilot a number of new music education initiatives as part of its Take Note Music Project. According to Project Coordinator, Miranda Cournane, "this will be a fantastic opportunity for children and young people across Co. Kerry to access high quality music education initiatives in their own locality. We know from research studies that young people in particular have a need to engage with music. As well as the numerous cognitive benefits that arise from the learning of a musical instrument, children and young people also benefit socially and emotionally from participating in music-making".
Kerry County Council Arts Officer, Kate Kennelly stated that "access to music education throughout Co. Kerry will be greatly increased by this initiative. We want as many children as possible to have the opportunity to be involved in music."
Ann O'Dwyer, Director of Schools at Kerry ETB and Chairperson of Kerry Music Education Partnership said "this is an excellent opportunity for Kerry. If we are successful in becoming a Music Generation Project we will have the resources to provide music education across the county particularly in areas that currently have little or no access to music tuition. This project is good for young aspiring musicians as well as music teachers and educators interested in pursuing a career in music in Kerry."
published on March 13, 2017
________________________________________________________________
TrY Music! (Tralee Youth Music Project)
The Tralee Youth Music Project is a new Take Note initiative overseen by Kerry Music Education Partnership.
Open to 12-17 year olds, young people get the opportunity to try out music in a friendly, informal environment, under the direction of experienced music professionals and creative media experts.
Each week we spend time writing lyrics, playing riffs, creating electronic music and recording new tracks. No experience is needed. We are an inclusive music-making project and welcome both musicians and non-musicians!
Only €2 per session!
We meet every Wednesday between 4-5.30pm in the KDYS building on Denny Street in Tralee.
For further info, please call 066 712 1674
TrY Music! is led by Kerry Education and Training Board and supported by Kerry Diocesan Youth Service and the Institute of Technology, Tralee.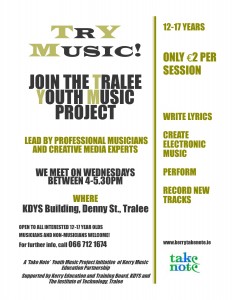 published on February 2nd, 2017
________________________________________________________________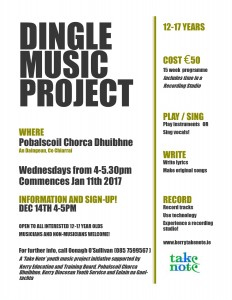 Togra Ceoil sa Daingean!
le Muireann Nic Amhlaoibh www.muireann.ie
Oscailte do gach duine 12-17 blain daois ar spéis leo é.
Fáilte roimh cheoltóirí agus daoine gan taithí.
€50 do clár 15 seachtaine!
Eolas agus clárú: Pobalscoil Chorca Dhuibhne 14 Nollaig 4-5pm nó cur glaoch ar Oonagh O'Sullivan (085 7599567)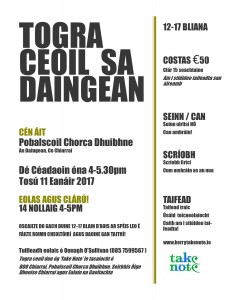 published on December 8th, 2016